I signed up to the matched betting site Bonusbank to test it out and see if it really works. Is Bonusbank actually a legit way to make money online?
I paid for an account with my own money and used BonusBank for about a week before writing this review. Here's my full BonusBank review for 2022:
What is Matched Betting
Matched betting is a method of making money by taking advantage of free bets, bonus offers, and incentives from bookmakers. You essentially place two bets, one with the bookmaker offering the offer, and another matching bet with another bookmaker to hedge. No matter the outcome of the bet, you will be guaranteed a profit.
Working all of this out on your own can be pretty complicated. And that's where Bonusbank comes in…
What is Bonusbank
Bonusbank both teaches you how to make money from matched betting as well as showing you available bets that you can make. Here's what you get with a membership to Bonusbank:
Matched Betting Courses – A full course explaining how matched betting works, and how to use the various methods to make money from matched betting. Make sure you take the course!!! Don't jump into making matched bets without first learning all the ins and outs.
ATM – This shows all the available arbitrage offers for the day. It gets updated everyday. And you can also get notified when new offers become available.
Calculators – There are calculators to figure out each bet. The courses take your through how to use each calculator. These will help you make the right bets to make sure you don't lose any money.
Discord – Get advice from other members and the bonusbank team.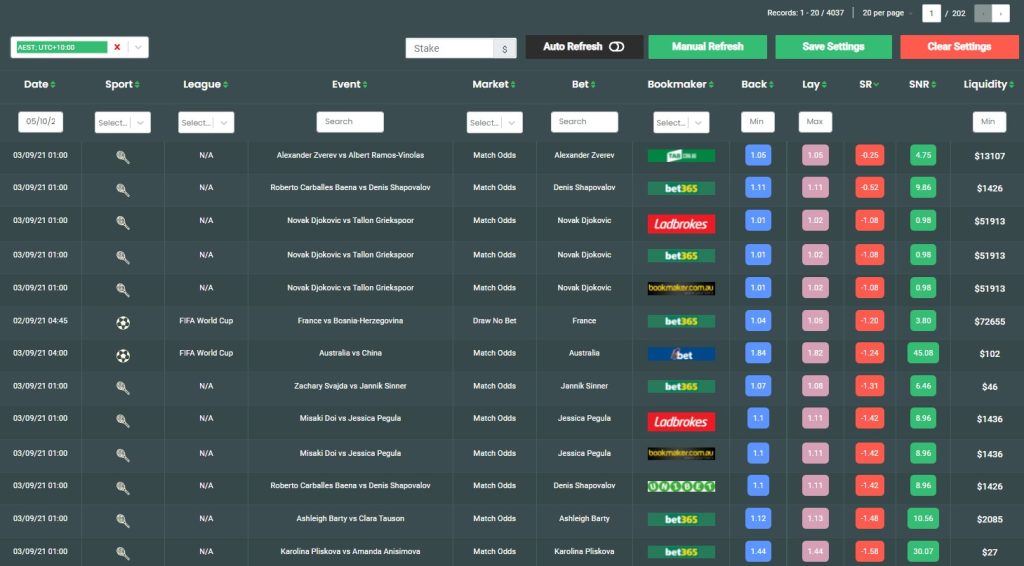 Does Bonusbank pay for itself?
Yes! Although I would have like to spend more time with matched betting, this week was pretty busy so I was only able to place two bets that I found using bonus bank. But I was able to make enough from those two offers to cover the membership fee. With more time spent I would have been able to make a reasonable profit.
Cons of Bonusbank and Matched Betting
It's not unlimited money – There are a limit to the number of opportunities available. Some days there just won't be a huge number of offers. It might be possible to make a full time income from matched betting, but I think for most people it will be a small side income. You won't be able to just bet more to make more. You're somewhat limited by the offers that bookmakers provide. This does limit your profits.
It takes time – This isn't something you can just spend 2 mins a day on. It took more time than I was expecting. Going through the ATM, making the calculations, visiting the bookmakers etc. It adds up.
You can make mistakes – If you place the bets correctly, matched betting should be very low risk. But human error is a real risk.
Liquidity – I was unable to place a couple of matched bets do to liquidity issues. I imagine this is fairly common.
Bookmakers can close your account – Bookmakers are under no obligation to keep your account open. They can close your account without giving a reason.
Can you get rich from Matched Betting?
Funnily enough, one of Australia's richest men made their fortune from something along the lines of matched betting. David Walsh, the founder of Tasmanian museum Mona made his fortune from gambling. While we don't know his exact methods and strategy, I'm pretty sure it involved matched betting. However the difference was he was part of a larger team that ran a very complex operation. So while you can't expect to mirror his results, it does go to show what opportunities there are in this space.
Is Bonusbank a Scam?
No not at all. I was able to sign up for the premium service and use the methods I learnt though Bonusbank to successfully place two matched bets. With more time I would be able to place more bets and make more profit. The hardest process is signing up with all the bookmakers! It does take time. And I was going pretty slowly to ensure I didn't make any mistakes.
Is Bonusbank Legal?
Yes! Matched betting is completely legal. You're not cheating the system, you're simply taking advantage of arbitrage opportunities. These exist in every market. Do bookmakers like Matched Betting? Probably not. Some bookmakers have said they are fine with it. Others might not want you on their platform.
Is it worth it? My Bonusbank Review
I think matched betting is a pretty exciting opportunity if you're willing to spend quite a bit of time both learning and managing bets. It can be quite involved. I plan to continue testing out matched betting to see how it performs over the long run. I've looked at a couple of matched betting membership sites, and Bonusbank looks like its the best. It's constantly updated and improved. And most importantly, it's built for Australians. If you live outside of Australia, don't sign up with Bonusbank as the offers are designed for locals.
If you're willing to put in the time, than Bonusbank is worth it.