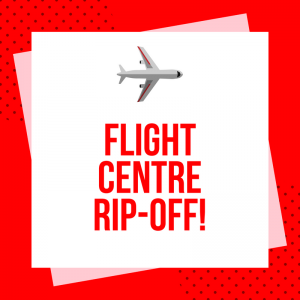 This week ABC News published a report into some very dodgy practices by popular travel agent Flight Centre.  To be honest, I haven't used a travel agent before They've always been more expensive and it has felt like a rip off.  I've gotten quotes from travel agents, but have always managed to find better prices online.
So if you've been thinking about booking some travel through Flight Centre or another travel agent, maybe you should rethink your approach.
Flight Centre markup
In order to make money Flight Centre needs to add a markup to you flights.  The ABC news report found that this markup could be basically whatever the sales person wanted it to be and they would try to markup as much as they could get away with.
So you should remember, that any flight you book through Flight Centre will be more expensive than you can get elsewhere.
Travel Agents may have "deals" which will allow you to save, however in my experience I have always been able to match a travel agents price by booking directly.  This may not be true for cruises, as cruise companies do work directly with travel agents, however airlines do not offer special discounts for travel agents.
Better ways to book:
So if you don't use a travel agent – what are the best ways to book your travel.  These are the tools I use to always find the best deal and cheapest flights.
Searching for Flights
The best place to book flights is usually through the Airlines website.  Airlines do not offer special prices to travel agents.  For domestic flights it's best to just jump onto the airlines website directly and search for flights.  In Australia we only have 2 or 3 domestic airlines servicing a city so your search won't take very long.  For international flights it can be a bit more complicated.  These are two great sites for flight search:
Kayak
Kayak will compare hundreds of different booking sites including the price direct from the airlines.  They will also show you the full price upfront including any taxes.  Kayak is like Google but for travel.  They also publish "hacker fares" which are airfares made up of different airlines hacked together to get you the best possible price.
Momondo
Momondo is just like Kayak but in testing I've found it sometimes is able to find deals that kayak hasn't been able to.  I also like the interface on Momondo a little more than on other sites.
Book Direct
Remember the cheapest way to book is often directly through the airlines website.  Sometimes it pays to search direct with them, although both Kayak and Momondo will display these prices as well.
Search for Hotels
Travel agents may get special deals on hotels.  This is because hotel rooms have a much greater markup than flights do.  However I've found that using the tool below i've always been able to get a great deal.
HotelsCombined
HotelsCombined will search hundreds of travel booking sites to find you the best price.  I'm still amazed that people will go directly to Booking.com or other sites.  You're getting ripped off!  The price of hotel rooms will vary from site to site, so it pays to use an aggregation tool like this.
Hotels are starting to offer the "best possible price" from their own websites.   So I always check how much the room will be by booking direct.  Often you get some added bonuses like free wifi if you book directly on the hotel website.  It takes 2 minutes to check the price on the hotel website, so it's worth doing just to compare.
Compare Travel Insurance
Travel Agents will often make the biggest commission from selling you travel insurance.  You're not going to need travel insurance for domestic travel, but I do recommend it if you're going overseas.  The price of travel insurance varies widely from provider to provider.  So your best bet is to hit Google and start searching.  You could save hundreds of dollars.   Don't just buy the first policy offered to you by a travel agent.  It's definitely not going to be the most cheapest.
In conclusion
You can book cheaper flights and hotels by using tools online.  These days putting together a travel itinerary is easy.  A travel agent is going to offer you anything you can't do yourself.  So save yourself a few dollars and book yourself!