Here are 5 unique ways to save money on your travel bookings. Most people don't take advantage of these simple and easy tactics that can reduce your travel costs by up to 20%.
Earn Cashback on Your Bookings
Using a Cashback site like Cashrewards is one of the easiest ways to save money on travel bookings.
There are a number of websites that offer cashback on travel bookings. Basically you just need to click through to the hotel or flight booking site for the Cashback site and you'll earn a small amount of cashback. It ranges anywhere for 2-15%. Because travel bookings are usually quite expensive this money really adds up!

My favourite cashback site to use for travel bookings is Cashrewards. Cashrewards supports most of the popular travel booking sites in Australia. There really is no downside to using a site like Cashrewards.
You'll earn the most cashback on Hotel and Travel Insurance bookings.
Bonus Tip: Use a Cashrewards promo code to earn $10 when you sign up.
Use Frequent Flyer Points
Frequent Flyer points can be used to book flights, hotels and more. Usually the best deal is to use Frequent Flyer points to book award flights. For Qantas Frequent Flyers you can book a one-way domestic flight for around 8000 points. You do need to still pay taxes, but you'll still save a lot of money by using points.
The easiest way to earn points is with a credit card. However, you don't need a credit card to make frequent flyer points worthwhile you can even earn Qantas frequent flyer points for free.
Setup Google Flights Alerts
Google has an incredible flight search engine called Google Flights. I use it to monitor the price of flights and book when the prices drop. Google Flights searches across pretty much all airlines and booking sites to show you the cheapest fairs. It's worth using if you've got an overseas trip being planned.
One really neat feature I like to use is searching by Continent. You can search flights from Australia to Europe (or other continents) without needing to specify an exact airport. You can often find cheaper routes and save a fortune.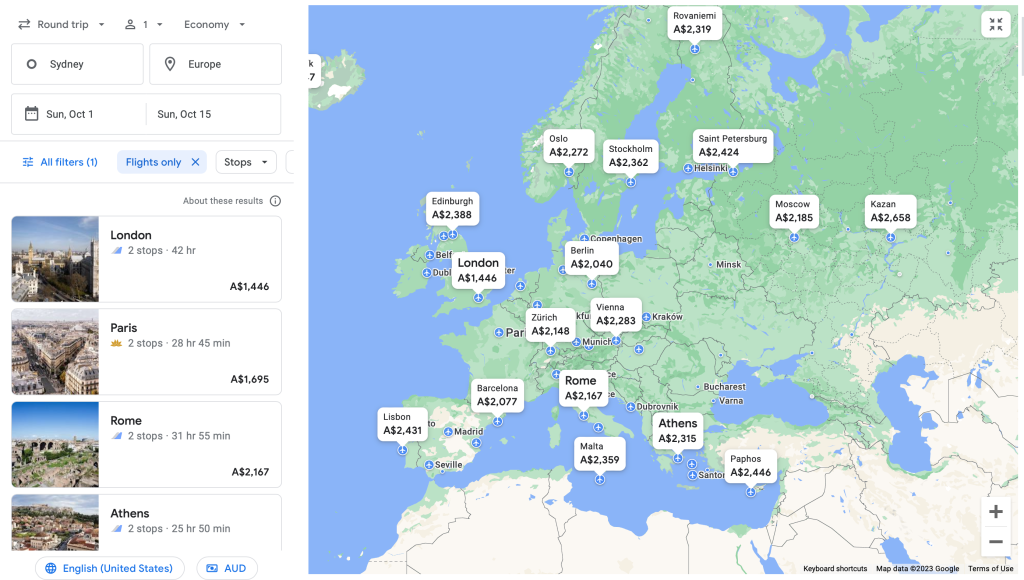 If you have setup a flight alert, just remember that prices do tend to increase closer to the date of departure. So you do run the risk of prices going up if you put off booking.
Take Advantage of Loyalty Programs
Most hotels have loyalty programs these days. And many hotel chains offer discounts for members. These discounts will often be better than booking through hotel booking sites. Hotels prefer if you book directly with the hotel as they don't have to pay any commissions, so many hotels these will offer the best price directly through their website.
As a member of a loyalty program you'll also earn reward points. These can be used to upgrade or book hotel rooms and they can also be transferred for frequent flyer points.
Try Incognito Mode
Do you know that booking sites, airlines and hotels use dynamic pricing that can be influenced if you've viewed the site before. If you keep coming back to look at a hotel room or flight, you could run the risk of the price being hiked up just so it seems like there is a sense of urgency.
People have found they can get a discount simply by using Incognito mode in their browser.
One hack I've used is even using a VPN to browse booking sites from another country. And depending on where you browse from the prices can be different.
Bonus Tip – Heading Overseas. Save a fortune on data by using an e-sim from Airalo.