By switching to a cheaper mobile carrier, you could end up saving a fortune over the course of a year? Aldi Mobile is a popular choice for people looking to save money on their mobile phone bill. They have some of the cheapest plans available and run on the Telstra network. Here's my Aldi mobile review for 2022 to help you make a more informed choice.
How much does Aldi Mobile Cost
With Aldi Mobile you can either go with a plan or pay-as-you-go. The cheapest option for both is $15. So if you're after a budget phone plan then this is perfect.
Aldi Mobile Plans
The $15 plan is the cheapest option available on Aldi Mobile. This plan will give you:
3gb Data
Unlimited Calls and SMS
For many people this plan will be perfect. But if you find yourself using more data then you can upgrade. The $25 plan gives you 22gb of data per month.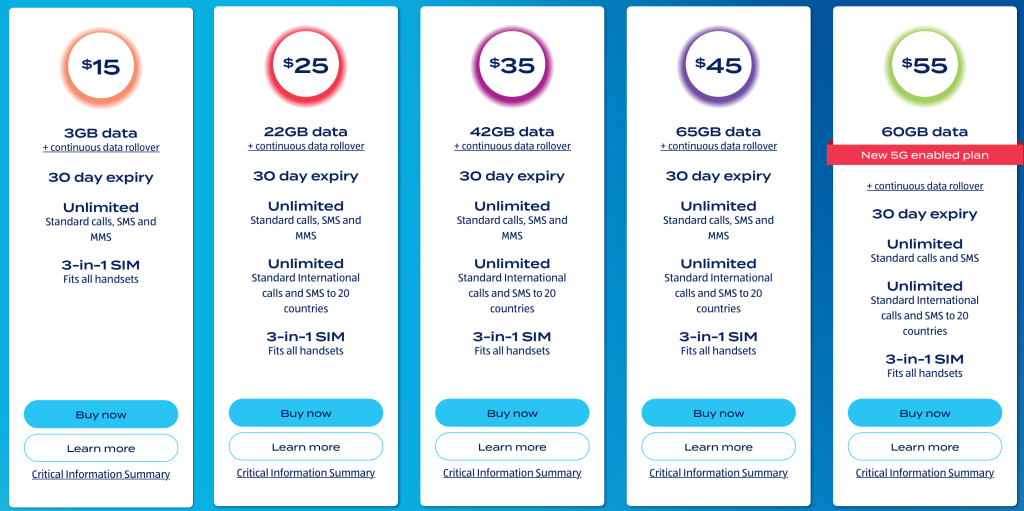 Aldi Mobile Pay as You Go (365 Day Plans)
As well as plans, Aldi also offers a pay-as-you-go option. This is a recharge plan and it has a 365 day expiry. You're not locked in to paying a monthly fee, instead you just need to top up when you need more credit.
This is only really worth it if you're using your mobile very occasionally. The data costs are very expensive. So if you use Maps, Instagram, News etc using data, you could end up burning through credit very quickly. I would recommend using an Aldi Mobile Plan instead.
Aldi Mobile Pros
Here are some of the pros of switching to Aldi from other providers:
Cheap Plans for Low Usage – If you don't use a huge amount of data, the cheap plans are really good value.
Telstra Network – Aldi Mobile uses the Telstra Network. This Network has some of the best coverage in Australia, especially in rural areas.
Data Rollover – If you have unused data, it can be rolled over to the next month.
Family Plans – Share data between devices. Great if you have multiple young people in your household or you're a couple. Great way to save a little extra each month.
Aldi Mobile Cons
There are some cons with Aldi Mobile. Here are some of the things I found:
Less Data on More Expensive Plans – If you use a lot of data, than its worth looking at other providers. I found Optus to have a better deal for large data users.
Bad International Roaming – Using Aldi overseas is very expensive. I would keep roaming turned off. Aldi Mobile doesn't offer an international package like Optus and Vodafone. If you plan to travel this might not be the best plan for you.
Support Can be Bad – I've had reports from family members that getting support can be difficult.
No Extras – These days, mobile providers in Australia offer lots of extras. For example on Optus you get access to Optus Sport for free which lets you watch the premier league. Other providers offer data free access to Spotify and other streaming platforms.
Doesn't Work with Smart Watches – If you have a cellular smart watch like some versions of the Apple Watch, it won't work with Aldi Mobile.
Aldi Mobile vs Optus
Aldi Mobile works out cheaper than Optus. Optus no longer offers plans that cost less than $45. For many people 3gb of data will be enough. Especially if you mainly use Wifi. If you find yourself using a lot of data, than it might be cheaper to use Optus. For example the $55 Optus Mobile Plan gives you 80GB of Data, where as the equivalent plan on Aldi only offers 60GB.
All Optus Plans support 5G. Currently Aldi Mobile only offers 5G coverage on their $55 plan.
If you travel overseas a lot, the international roaming plans on Optus are much better than on Aldi.
What Network Does Aldi Mobile Use
Aldi Mobile runs on the Telstra network. So you're basically getting access to the best network in Australia, especially if you live in a rural area. However it should be noted that they don't use the full network. I'm guessing this is to save costs. So just make sure you check their coverage map to see if you're covered.
Most metro areas looks like they have 4g coverage.
Aldi Mobile 5G
One of the downsides of using Aldi Mobile is their lack of 5G support. 5G is only available on the Aldi network if you're subscribed to the $55 plan. So you'll need to pay a little bit more if you want faster transfer speeds. It's worth checking if 5G on the Telstra network is even available in your area before worrying about whether you need 5G or not.
Aldi Mobile Plans for Seniors
Aldi doesn't offer any specific plans or discounts for seniors. However their pay-as-you go plans may suit many seniors. If you're barely using the device apart from making the odd phone call, then the pay-as-you go plans will work well. They have a 365 day expiry, so you don't need to keep recharging each month.
Aldi Travel Sim
Aldi doesn't offer a travel sim or competitive international roaming fees. You could end up paying a fortune even just for doing a Google Search.
If you are traveling I would recommend getting one of these International Travel Sims. I use these when I'm traveling and they up being cheaper than using the Aldi Sim.
If you have a modern mobile phone (like a recent iPhone) you can also use an eSim while travelling. I use Airalo which has really cheap data plans.
My Aldi Mobile Review
I have some family member on the Aldi mobile plans. They seem to be quite happy. If you're a casual mobile user and don't use a lot of data, than this might be the provider for you.
Watch out in-store for special Aldi Mobile deals. These pop up from time to time and you could get extra data or save more. There are some cheaper alternatives out there (plans start as little as $10) so they aren't the cheapest. Overall a pretty solid offering on a good network. If you're looking for a mobile plan on a Telstra Network than Aldi is a great option.
If you're on Aldi Mobile, let me know in the comments how you've been finding it.