I've been a subscriber to Amazon Prime in Australia for the last 2 years. But is it actually worth getting Amazon Prime. And do the benefits outweigh the costs. Read on to discover my full review of Prime:
Is It Worth Getting Amazon Prime in Australia
Ever wondered if it's worth getting Amazon Prime in Australia? The benefits you'll get in Australia are different to what you'll get as a prime member in the United States or other regions.
Amazon Prime Benefits in Australia
Here are the Amazon Prime Benefits available in Australia:
Free Expedited Delivery – You'll get free 2 day delivery on a huge number of items on Amazon.com.au.
Free International Delivery – You'll get free delivery on Amazon items that are shipped from overseas.
Amazon Prime Video – Prime Video is similar to Netflix. Access a huge catalogue of TV shows, movies and exclusive content.
Amazon Music Prime – Access over 2 million songs with ad free playback.
A Free Twitch Subscription – If you watch streamers on Twitch, you'll be able to subscribe using your Prime Subscription. This will give you ad free viewing to that streamer as well as supporting their content.
Amazon Prime Reading – Enjoy access to a library of over 1000 ebooks for free that can be read on your Kindle or Kindle App.
Exclusive Discounts and Shopping Days – Amazon holds special events and offers special discounts to Prime Members
New in 2023
Same day Delivery – Amazon has added same day delivery for Prime Members. However this is only available within certain post codes in Sydney and Melbourne.
How Much is Amazon Prime in Australia?
Amazon Prime costs $9.99 per month or $79 per year in Australia. If you sign up for the yearly plan you'll save quite a bit.
Prime used to cost $6.99 per month in Australia but Amazon announced they were raising the price in 2023.
Amazon Prime Free Trial
If you want to try out Amazon Prime for free, they do offer a free trial in Australia. You can get 30 days to see if Prime is right for you.
Claim your Amazon Prime Free Trial
Is an Amazon Prime Subscription Worth Getting?
If you plan to shop using Amazon, then I believe an Amazon Prime subscription is worth getting in Australia. When Amazon first launched in Australia, it didn't offer a huge range of products on their Australian site. But that has now changed and the range is quite extensive. I find myself regularly ordering things like Toilet paper, cleaning products, dishwashing tablets etc. It's great for bulky items that are a pain to get at the supermarket.

You'll save quite a bit of money on shipping if you have an Amazon Prime subscription. Plus you'll receive most items within 2 days. That's pretty much faster than most online stores in Australia.
If you want to watch shows on Amazon Prime Video, then getting a Prime subscription is also worth it. While there isn't a huge number of shows that I watch on Prime Video, I do find the odd program. I see it as a nice added benefit.
I currently don't use the Prime Music service as I already have an Apple Music subscription included with my Apple One Plan. If you have Alexa devices, like a smart speaker, you'd be able to play ad free music with a prime subscription. You can also download apps to your phone or listen through your browser.
So is an Amazon Prime subscription worth getting in Australia? Yes! It's pretty cheap at just $6.99 a month and you get a huge number of benefits. My subscription has paid for itself in free delivery many times over.
Amazon Prime Video
Included in a subscription to Prime is Amazon Prime Video. This is a streaming service that is similar to Netflix.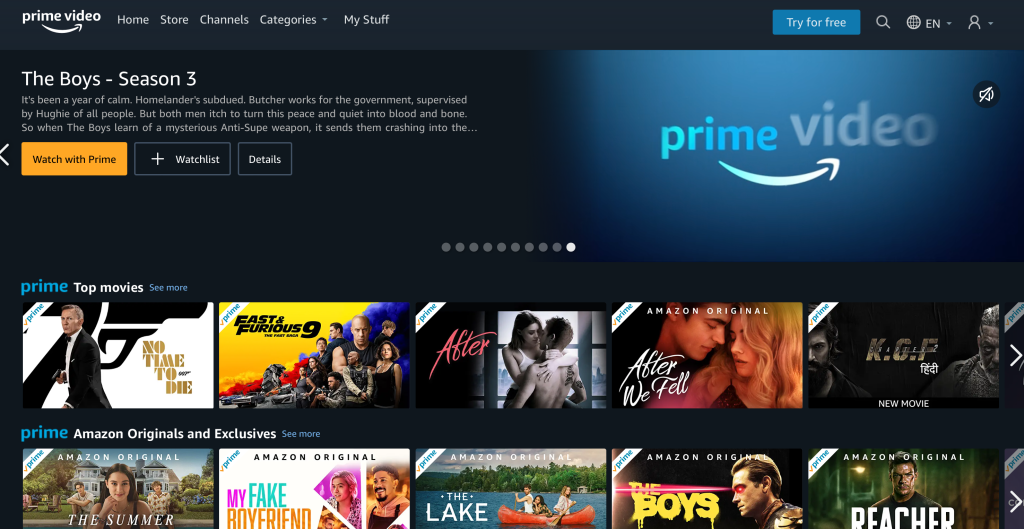 The Best Shows on Amazon Prime Video in Australia
Prime Video has a huge library of titles. Here are some of the highlights:
Amazon Originals such as The Boys, The Summer I Turned Pretty, The Lake and Alex Rider
Top Gear and The Grand Tour

– If you're a fan of Top Gear and the Grand Tour, you'll be able to watch it through Prime Video in Australia. There are also other shows from Jeremy Clarkson (Like Clarkson's Farm) and James May (Our Man in Japan).

Favourites like The Office, Law and Order, Two and Half Men, Chuck and many more
I've found the library on Amazon Prime Video has been getting better and better in recent years. Especially as Amazon has been working on a lot of original content.
Is Amazon Prime Better than Netflix?
Both Amazon Prime Video and Netflix have excellent content. I subscribe to both Amazon Prime and Netflix as I find there are things on both of these streaming platforms that I want to watch. While some shows and movies are available on both platforms, Netflix and Amazon create original content that can only be streamed through their services.
Amazon Prime costs just $6.99 per month in Australia. So if you're looking for a streaming service that is cheaper than Netflix, than Prime Video is a great option.
Amazon Prime Music
Amazon Music is a streaming service that is similar to Spotify. You get free access to a library of over 2 million songs included with your Prime Membership. You can play music through an app on your iPhone or Android Device, through your web browser or using a smart speaker.
Many people already have an Amazon Alexa Echo smart speaker. While using Alexa is free and has no cost there will be ads in your music if you don't have a prime subscription. The catalogue of songs is also limited. With a Prime Subscription you get access to more songs and there are no ads.
Amazon Music Unlimited
You can choose to upgrade your Amazon Prime Music subscription if you need access to HD streaming and the ability to play music on multiple devices. This is an extra cost on top of your Amazon Prime membership.
How to Cancel Your Amazon Prime Subscription in Australia
The great thing about Amazon Prime is there are no contracts. This means you can cancel your Amazon Prime membership at anytime. If you find that you aren't ordering much off amazon or using the streaming services, than might be a good idea to cancel.
To Cancel your Amazon Prime Subscription visit the Prime Central page in your account. From this page you can end your membership. You can subscribe again later on as well.