I've been using Cashrewards over the last two years to earn cashback on my shopping. Here's my Cashrewards review for 2022:
What is Cashrewards
Cashrewards is a cashback site. Using Cashrewards, you can earn cashback on the shopping you do online and in-store. All you have to do is make sure you click through to the online store from the Cashrewards site or app. Or you can install a browser extension for automated cashback. You'll earn a little bit of cashback on the online shopping you do.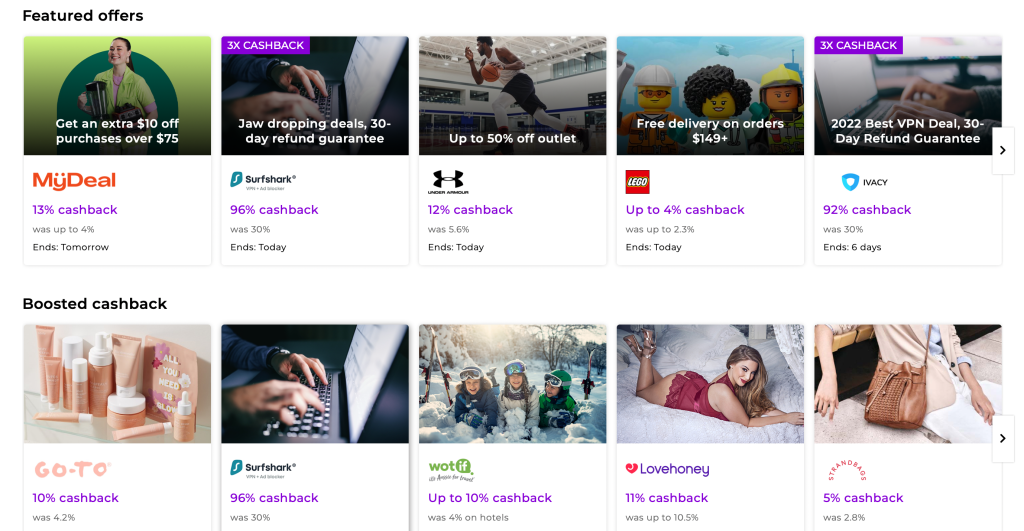 How do you use Cashrewards
Here is how to earn cashback on your shopping in Australia by using Cashrewards:
Sign into your Cashrewards account or create a new account
Search for the online retailer you are looking to buy from
Click the button to be taken to that online retailer
Shop and Checkout like you regular would
Your cashback will automatically be credited to your Cashrewards account after a period of time (it does vary)
You can also earn cashback from your in-store purchases. To do this you need to link your Visa or Mastercard Debit card.
Is Cashrewards Legit?
Yes! I've been using Cashrewards for the last couple of years. I can confirm that I've successfully earned cashback and been able to withdraw this cash to my bank account. Cashrewards is a legit way to earn a little extra income from the shopping you already do online.
My Cashrewards Review – is it worth using?
I think Cashrewards is definitely worth using. You can earn cashback from stores like Amazon, Myer, The Iconic etc. If you're shopping at these stores anyway, you may as well earn a little bit of cashback. While the amount you get on each purchase isn't a huge amount, I find that it does add up quite quickly.
Using Cashrewards is especially good when you're booking travel. Hotels and Flights are quite expensive purchases and you can get a huge chunk back in the form of cashback. I managed to get a couple of hundred dollars back when booking my holiday travel.
I've earned more cashback on Cashrewards than I have using similar sites. Cashrewards is my favourite Australian cashback site.
The only problem with Cashrewards is that I often forget to use it. You can solve this by using the Cashrewards Notifier. This is a browser extension that will let you know if you're on a store that is offering cashback.
Tip – Make sure you sign up using a Cashrewards promo code to get a $10 bonus.
How does Cashrewards Make Money?
Cashrewards makes a commission when you click through to a store and make a purchase. They share some of this commission in the form of cashback. They make money, but so do you!
Does Cashrewards Support All Online Stores?
No. While Cashrewards doesn't support every online store, they do offer cashback for a huge number of stores in Australia and some international stores too. I've found that Cashrewards has the largest range of Australian based stores. I've tried using a number of international cashback sites, but they just don't offer cashback on as many local sites.
Is Cashrewards Cashback Instant?
No. It will take a month or two for cashback to appear in your account. Each retailer usually has different timeframes. When you make a purchase it will appear in your Cashrewards account as pending right away. And then it will be credited over the coming months.
Can you use Cashrewards and Shopback at the same time?
While you can be members of both sites, you will only be able to earn cashback from one cashback site for each purchase. This is because the purchase will be credited to the cashback site that you clicked through from first or last (it can depend on each retailer). But you won't earn cashback from both Cashrewards and Shopback if you try clicking through from both. The tracking will only work for one site.
How do I withdraw money from Cashrewards?
The minimum amount of money you can withdraw from Cashrewards is $10.01. This money can be withdrawn to a linked bank account. You simply link your Australian bank account, enter the amount you want to withdraw and confirm.
I find withdrawals take a few days to process. They aren't instant.