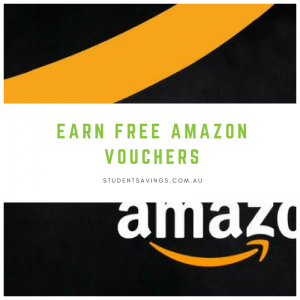 Updated with my new favourite way to earn free amazon vouchers for June 2020
Would you like to turn your spare time into amazon gift cards?  Imagine not having to pay for kindle books ever again!  In this post I'm going to share 4 very different ways you can earn free amazon vouchers.  These vouchers can be used on purchasing anything from Amazon, and many of these sites will allow you to also earn Amazon.com.au vouchers.
My Favourite Way to Earn Free Amazon Vouchers
My favourite website for earning amazon gift cards is Qmee.  Qmee is an online survey site.    You can either cashout for PayPal cash or Amazon.com.au vouchers.  The minimum voucher amount is $5 and you can easily earn this in less than an hour by completing a survey or two.   The vouchers are delivered to your email address instantly.  If you do choose to cashout via PayPal, there is no minimum and the payment is instant.

If you spend a little time each day on Qmee you'll easily make $50-$100+ worth of Amazon Vouchers each month.
Other Survey Sites:
Another alternative to Qmee is Swagbucks.
Sites like Swagbucks will pay you to complete market research surveys.  Companies use these surveys to learn more about their potential customers.  And it's valuable information for them.  This is why you can get paid to complete them.  On Swagbucks there are hundreds of surveys that you can complete each day.  It's a great way to make a little extra cash while watching TV.
On Swagbucks you can convert points earned by completing surveys into Amazon Gift Cards.  You can also choose to have it cashed out straight to paypal.
Cashback
Swagbucks also has a "cashback" feature that will reward you with cashback when you shop on certain sites.  There are also a number of other sites in Australia that will reward you with Cashback.
The trick to earning free vouchers with cashback is to not make purchases you wouldn't usually make.  But if for example, you were going to shop on Asos or Boohoo already, then you might as well earn some cashback on what you buy.
Swagbucks will reward you with around 5% cashback on purchases.  All you have to do is click through to the store from the swagbucks website and shop like you regularly would.  5% really does add up, and it would take just a couple of purchases before you earned an Amazon Voucher.
Complete Tasks on Mechanical Turk
Mechanical Turk is a platform by Amazon which pays you to complete micro-tasks.  These tasks could be anything from describing what you see in a picture to making sure a review doesn't contain swear words.  Microtasks take a few seconds to complete and you are paid per task.
You can cashout your earnings for money or for an Amazon Gift Card.  This type of work is pretty mindless and doesn't pay particularly well.  It's great for doing while you're watching tv though – why not make money for tie you'd otherwise be wasting!?
Review Products from Amazon
This method is the most complex, but it's also the most profitable.  Amazon runs a program called Amazon Associates.  This is a referral program.  If you refer people to Amazon and they make a purchase, you'll earn a commission.
So one way to make money from this (or Amazon Gift Cards) is buy reviewing products on your own website or blog.  When people click through from your blog (via the links provided from Amazon Associates), you'll make a commission.  They don't even need to buy the product you reviewed – you'll earn a commission on any sale made.
Making a full time income from Amazon Associates is hard work.  But earning enough to receive a monthly gift card is achievable by most people.
So there you have it – 4 different ways to earn free amazon gift cards.