You may have come across ads for Aussie Paid Surveys and thought about signing up. But is Aussie Paid Surveys legit? I signed up to see what it was all about and give you my review. Here is what I discovered.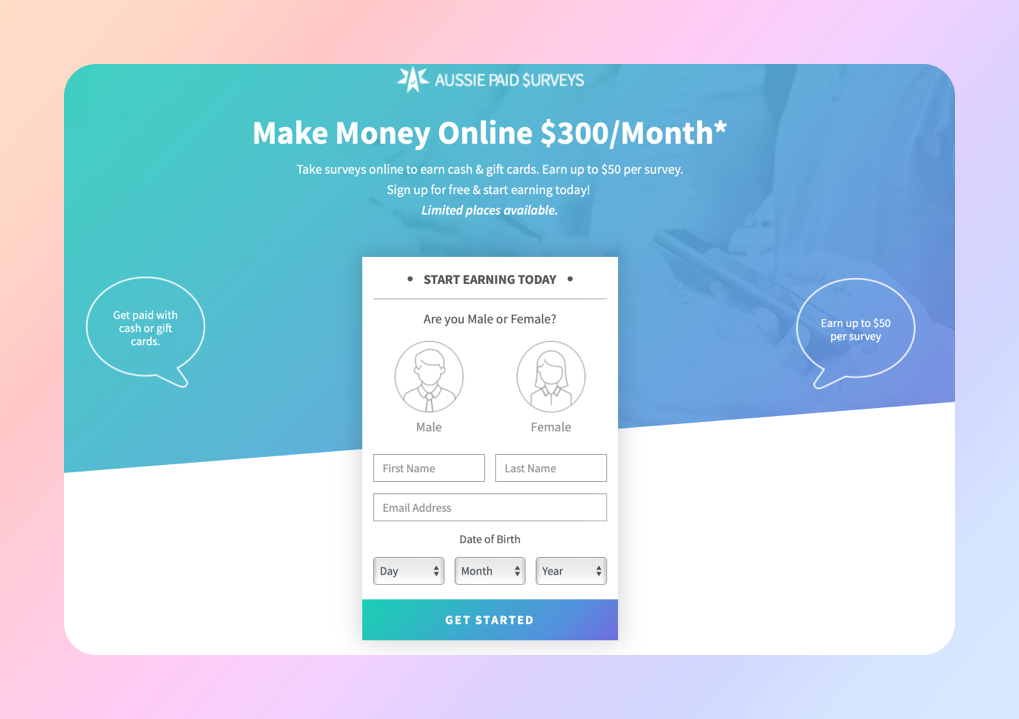 Is Aussie Paid Surveys Legitimate?
Aussie Paid Surveys doesn't offer any surveys to complete. Instead they are simply a service that signs you up to third party survey sites. So while Aussie Paid Surveys isn't a scam, it also isn't a legit survey company.
Should you Sign up with Aussie Paid Surveys?
No! I don't see any real advantage in signing up to Aussie Paid Surveys. The signup process simply asks for your personal information and then uses this to sign you up with a number of third party survey sites. You do get to choose which sites you want to sign up with.
If you're looking to take surveys to make money, I would just sign up with sites like Qmee, Octopus Group, Swagbucks etc directly. There is no point in giving your personal information to another company that is going to sell it.
If you sign up through Aussie Paid Surveys you'll probably start receiving a lot of marketing emails. You basically agree for them to send you offers.
If you want to avoid getting lots of spammy offer emails, I wouldn't sign up with Aussie Paid Surveys. Instead just sign direct to a survey site.
What is Aussie Paid Surveys
They are simply a marketing site trying to direct you to sign up to online survey sites. They don't list or offer any surveys themselves.
How does Aussie Paid Surveys make money
When you signup to one of the third party survey sites and start taking surveys, Aussie Paid Surveys will make a commission. Basically they make money from affiliate commissions.
The Best Aussie Paid Surveys Alternatives
There are lots of legit survey sites in Australia. These are some of the survey sites that I've used to make money online and I've verified that they do pay out:
My Aussie Paid Surveys Review
Don't even bother signing up. You'll just get lots of marketing emails. If you want to make money online from Surveys in Australia, sign up to one of the many legit survey companies that will pay your directly.