PureProfile is my number 1 earning survey site in Australia. If you're looking to make money from surveys, the best place to start is on PureProfile. It has some of the highest paying surveys as well as a good number of available surveys to complete.
What is PureProfile
PureProfile is a legit Australian survey site. Members can earn money or other rewards for completing surveys. These market research surveys help companies develop products and in return you'll get paid. Using PureProfile is a legit way to make a little extra money on the side.
Each survey will pay between $0.20-$6. The amount you get paid depends on how long the survey will take to complete. The shorter the survey the less you'll get paid. I've found that unlike many other survey sites in Australia, PureProfile has high quality surveys that I don't get screened out.
If PureProfile Legit
Yes, PureProfile is a legit survey site. I signed up to PureProfile to test it out and I can confirm that it does work in Australia. There were plenty of surveys for me to take and I can confirm that I was able to withdraw money from the app to my bank account.
While some apps like Aussie Paid Surveys and Swagbucks have a lot of low quality surveys or are just redirecting you to third party apps, PureProfile has higher quality surveys.
How to Get More Surveys on PureProfile
Here is how to get more surveys on PureProfile:
Complete your Profile – Complete the profile surveys in the app. These surveys don't pay but they do help PureProfile target you with the right surveys.
Be Honest – Make sure you answer questions truthfully when completing a survey. You can get screened out from future surveys if you just randomly answer.
Pay Attention – Many surveys have questions to check that you're paying attention and actually answering questions. Don't try and speed through a survey as this lead PureProfile to deliver fewer surveys.
Try another Device – You can try logging into both the PureProfile Mobile App and the website through your desktop or laptop computer. Some surveys are desktop/laptop only.
Check Back Throughout the Day – New surveys become available throughout the day. So it pays to check back into the app every now and then.
Be Patient – Sometimes I've found there just aren't many surveys available on a certain day. You might just need to wait until the next day for more surveys to become available.
Try another Survey App – I use multiple survey apps. These are the best paying survey sites for Australians.
How to Withdraw Money on PureProfile
There are three different reward types on PureProfile. Cash to your bank account, Hoyts movie vouchers or Gift Cards. You can choose to cash out in any of them.
To Withdraw money on PureProfile just select "Bank" and choose the amount you want to withdraw. The minimum withdrawal amount on PureProfile is $20.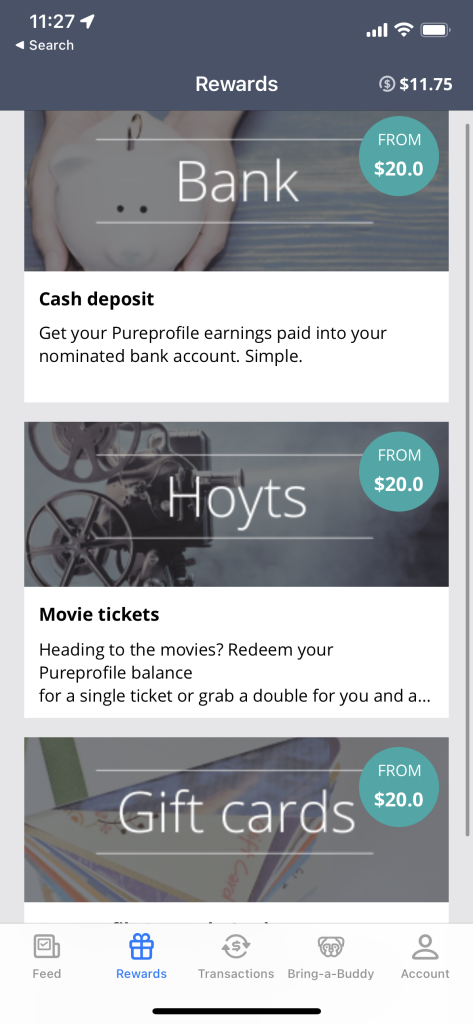 Note, if you've signed up to PureProfile through Raiz, then your Rewards will automatically be paid into your Raiz account and you can't withdraw to your bank account.
How Much Money Can you Make with PureProfile
In my testing, I've found that you can pretty easily make around $20 per day on PureProfile. I've found that some days it was harder to reach that goal due to the lack of surveys available. But if you're new to the app, it should be fairly easy to reach $20.
How Long Does PureProfile Take to Pay
If can take PureProfile up to 30 days to pay money into your bank account. This is the only downside to using PureProfile. There are other survey sites that do pay pretty much instantly. But the payments are reliable – I haven't had an issue with any missing payments.
Is PureProfile Safe
PureProfile is a fairly safe survey site. I haven't come across any Spam surveys that I've found on other sites. When completing surveys just remember to never include any personally identifiable information. Some surveys may ask you to enter an email address at the end, to keep updated with the survey results. This is almost always optional. If it's not, I would report the survey to PureProfile so they can remove it.
The Best PureProfile Alternatives
Although PureProfile is my number 1 pick, these are the other survey sites that I use and recommend:
Qmee – Super Fast Payouts
Qmee is my second favourite survey site for Australians. If you're looking to make money quickly, this is the best option. I can usually withdraw money from Qmee pretty much instantly.
YouGov – High Quality Surveys
YouGov doesn't have a lot of surveys like PureProfile does, but the surveys are super high quality and really easy to complete. They email you or send an app notification when a survey becomes available. I find it pretty hard to make a decent amount through YouGov.
Toluna – Lots of Surveys
I don't use Toluna that much anymore but they do pay fairly well and there were quite a lot of surveys available when I tested it out. The only downside is you earn "points" which then get converted into cash or gift cards. The conversion rate is obscure so it's hard to know how much you're really getting paid for each survey.
My PureProfile Review – It's worth it!
I believe PureProfile is the best survey site in Australia. I've been able to make more money on PureProfile than on other survey sites.
While you'll never be able to make a full-time income from completing surveys. You can make a little extra cash each day. With a bit of effort you can pretty easily make around $20 a day from PureProfile. While that doesn't sound like a lot, that works out to over $10k in a year. So yes, Pureprofile is definitely worth it.