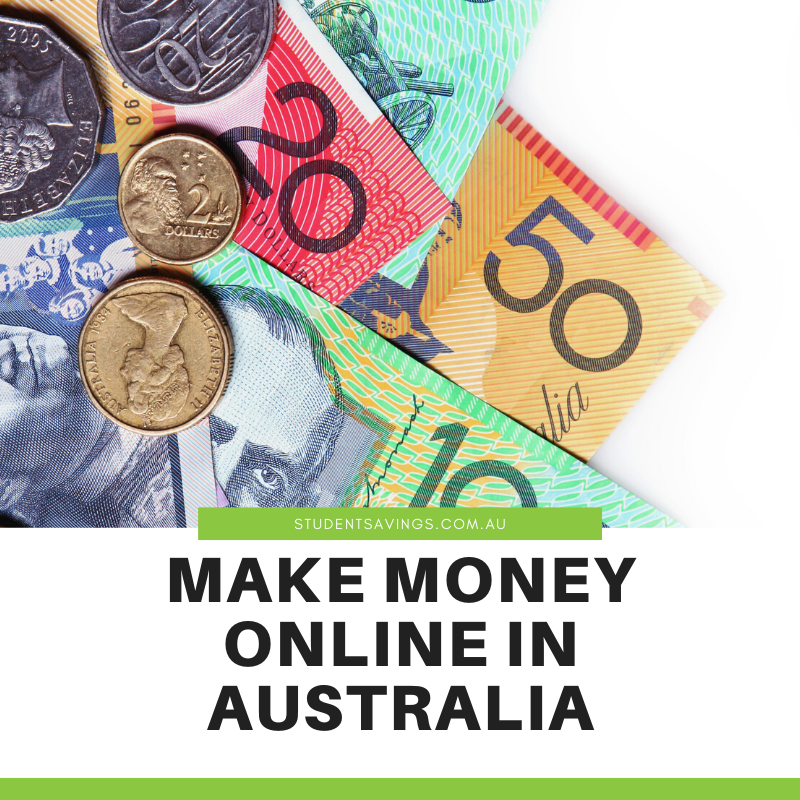 Are you looking for ideas on how to make money online in Australia?  Here are some of the best methods that I've found actually work.  Some of these methods can be pretty time consuming – and even turn into full time jobs.  And others can be done in your spare time to make a little extra cash on the side.
With the Australian dollar being quite low compared to the U.S dollar, now is the perfect time to make money online and take advantage of our low currency.
Blogging and Writing
Turn your writing skills into money!  Here are some of the best ways to make money from your writing.
Build a Blog
Blogs (just like this one) make money from advertising and affiliate marketing.  I think Blogging is probably the best way to make money online.  Once you've setup a blog and created some money making content, a blog can generate passive income for years to come.  Plus it's also an asset that you can potentially sell later on down the track.
Setting up your own blog is easy.  This is my guide.  But you don't even need a guide.  I use Siteground and  itpretty much does everything for you.    The investment up front is around $50-$100.  This will buy you a domain name, and web hosting.
Medium is an online publishing platform.  They have a partner program that pays you based on the number of people who read your writing.  Making money on Medium is much more of a grind than doing so on your own blog.  But it is a good option for people who just want to write and not bother with setting up a blog.
Thanks to e-readers and marketplaces like Amazon, anyone can publish books now.  Amazon offers a program called KDP (Kindle Direct Publishing) which lets anyone upload books to be sold through the Kindle store.  Non-fiction books tend to perform the best, but fiction can still be extremely profitable.    Because you're publishing the book directly, you earn a much higher % of the sale price.
Taking Online Surveys
Surveys are a great way to turn your spare time into a little bit of extra cash.  I've been able to make around $100-$200 a month from survey sites.  I usually spend a little time each day while watching TV doing a few surveys.
Qmee is currently my highest earning survey site.  What I love about it the most is you can cashout your earnings instantly to PayPal and there are no minimums.   Surveys pay anywhere from $0.20 to $2.  I usually only take the $1+ surveys.
OctopusGroup is a high paying survey site for Australians.  Each survey can pay up to $10.  Unfortunately there aren't that many surveys on offer.  They will email you when one becomes available and when they do I've found it's always worth taking the survey.
SruveyTime pays $1 for every survey, no matter how long or short they are.  This is great for completing short 2-3 minute surveys and earning a $1 cashout instantly.
Swagbucks has the most surveys of any site.  I do find the quality of the surveys to be pretty poor though.  But they do offer some interesting additional ways to make money.  You can earn money by searching the web, shopping online and completing offers.  So if you're looking to make money from more than surveys, then Swagbucks is a solid option.
Getting Cashback
Before you shop online make sure you use a cashback app.    You can earn up to 10% cashback for basically doing nothing.
Shopback is the cashback app I use the most.  They offer cashback for pretty much all the brands I usually shop with. In the past I've found it works really well with travel bookings.  You can end up getting back hundreds of dollars on hotel stays and other travel expenses.
Commbank Rewards
I've noticed that Commbank has added a rewards feature to their mobile app.  You can now get cashback when you spend money at various retailers.  They only have about a dozen or so offers available at any one time.
Freelancing
Freelancing lets you sell your skills online.  Here are some of my favourite marketplaces
Fiverr is a marketplace that lets you sell your services for a small fee.  It originally started as a place to charge $5 for quick tasks, but now you can charge more depending on how complex the task is.  I recommend browsing through the marketplace to see what other people are selling.  It could be something as simple as being a virtual assistant, writing an article or drawing an illustration.
If you're a designer or just someone with design skills you can create templates, illustrations, graphics, photos and more and sell them on marketplaces like CreativeMarket.  The top earner on CreativeMarket makes over $1 million in a year!  It's also a great way to make passive income as once you've created your products they'll keep generating income for years.
Dropshipping
Dropshipping is an e-commerce strategy where a website doesn't keep the products it sells in stock. Instead, the merchant purchases inventory from a third party and has it shipped directly to the customer. This model minimizes risk and reduces overhead. You can dropship customized products like shoes, t-shirts, phone cases and more with your own designs. Check this guide on how to make custom clothing that you can sell through your blog.
You can partner with a supplier who specializes in custom-made clothing, provide them with your unique designs, and then sell these products on your blog. The supplier manufactures and ships the products, making dropshipping an efficient way to offer customized apparel with limited upfront investment.
Make Money Online – How to get started
I recommend just picking one of these methods and sticking at it for a few months.  Survey sites will generate instant income but it won't be very much.  Where as blogging can generate a full-time income+  but will take a few months at the minimum to really get going.
Once you've got one method generating income you can expand and combine multiple methods.  For example, you could run a blog that sold printables through Creative Market.
Let me know in the comments if you've been making money online in Australia and what methods you've found to work the best.