Browsing through this thread on Reddit you can see that plenty of people are making around $100-$300 per month from Swagbucks.  You'll never be able to earn a full-time income from Swagbucks,  but it's a great way to earn a little extra cash on the side and turn your spare time into a new source of income.
$300 every month over the course of a year adds up to $3600.  Which is no small amount.   Enough to easily pay for a holiday at the end of the year!  Here is my guide on how to get the most out of Swagbucks to make extra money.
Complete Surveys
I've found that surveys are the most profitable way to earn money through Swagbucks.  Each survey is worth anywhere from $0.10 to $2.  The amount you get paid depends on the length and complexity of the survey.  The surveys are run by Market Research companies looking to gain consumer insights.  This is a big business, so you may as well cash in and be a part of it.
I wanted to test to see how much I could make in an hour.  I set a timer and was able to make $8.  This is obviously less than minimum wage.  But on the plus side, I was able to complete this while watching TV.  So it was actually time well spent.  And it's not exactly hard work.    This was just my experience and I'm sure if you do it daily, you'd become much faster at answering questions, which would lead to more income.
The one annoying thing is the number of surveys you start but don't qualify for.  This can get a bit annoying.  I wish Swagbucks would do a better job of only sending you targeted surveys.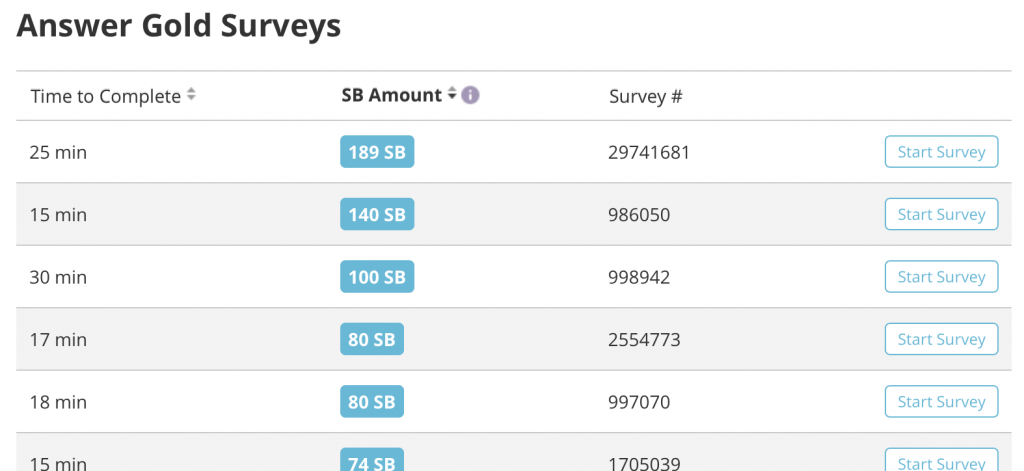 Get Cashback on your shopping
Swagbucks has a cashback feature.  This lets you earn cashback on your online purchases.  If you already shop at stores like Nike, CottonOn, eBay etc, you could be saving a lot of money by using Cashback.  All you have to do is click through to the store from the Swagbucks site and check out as you usually would.  You can also use the Swagbutton which does it automatically:
The SwagButton
The Swagbutton is a browser extension for chrome that lets you automatically earn cashback at thousands of online stores.  The cashback can be as much as 5%, which really adds up over time.   The Swagbutton will also automatically search the web and apply discount codes to your checkout.  So you end up saving even more.  It's something you can install and just forget about. And you'll earn a little extra cash in the background.
Tip: I've found that if you use both Swagbucks and Shopback, pretty much all the popular stores are covered.  So now you can get cashback everywhere you shop online.  If you want cashback deposited straight into an investment account, then I would recommend using Raiz.  Raiz will only work through your mobile phone though.
You can install the SwagButton and find out more about it here
Other Tasks
There are a number of other ways to earn on Swagbucks:
Watch Videos – watch videos and earn money.  The amount you get is very little.  Could be useful to do in the background while doing other things like chores.
Search the Web – you can search the web through Swagbucks and make money.  Unfortunately I couldn't get this to work.  I'm not sure if this is just my browser or something to do with Australia.
Offers – these are the most lucrative, but usually require you to spend money.  For example, there is a current offer to sign up to the music streaming service Tidal.    These offers can pay hundreds of SB (which amounts to a few dollars).
Refer your Friends
Do you want to earn passive income from Swagbucks?  If you refer someone to the service, you'll earn 10% of everything they make.  If you refer a few active people, that could really add up.  And the best bit is once you've referred someone, you don't need to do anything.  Just sit back and earn passive income.
How to Cashout Rewards
Rewards on Swagbucks can be cashed out to gift cards or your PayPal account. 1sb is equal to $0.01.  It only took me a few days to cashout $10 to PayPal.  Although in hindsight I should have waited as you a premium on the $10 cashout option compared to the $20+ options.
How to Get Started
Start completing surveys
Take advantage of the bonuses you get for visiting the site each day
Cashout!