Looking to save a bit of money by switching to a cheaper mobile provider?  Then Aldi Mobile could be for you.  They have some of the cheapest plans available and run on the Telstra network. Here's my Aldi mobile review to help you make a more informed choice.
How much does it Cost
With Aldi Mobile you can either go with a plan or pay-as-you-go.    The cheapest option for both is $15.  So if you're after a budget phone plan then this is perfect.
How much you'll pay on Pay-As-You-Go:
$0.05 per MB of Data
$0.12 per minute for calls
$0.12 per SMS
These days, if you're using a smart phone, you'll probably be making fewer calls and sending fewer SMS messages (remember iMessage, FB Messager etc use data).   $0.05 per MB of data is very expensive.  You'll end up paying $50 per gig of data! So for most people the pay as you go option isn't worth it.  You're better off going with a plan
The $15 Plan:
3gb Data
Unlimited SMS and Calls
This is a much better deal for most people.  Of course you will be in a plan, so you'll need to pay $15 a month – whether you use it or not.  If you're not a huge data user and mainly use Wifi, then 3gb should be enough to get you through a month.
The $35 plan comes with 35gb of Data and the $45 plan comes with 45gb.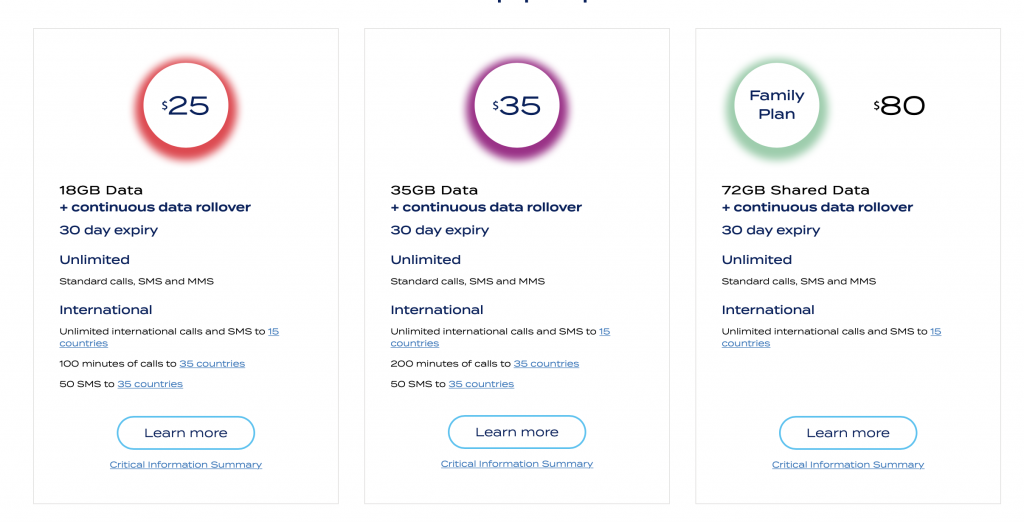 Aldi Mobile vs Optus
So how does Aldi Mobile compare to a popular network like Optus:
$45 Aldi Plan
48gb Data
Unlimited Calls and SMS
Unlimited international calls to 15 countries
$49 Optus Plan
60gb of Data
Unlimited Calls and SMS
Unlimited international calls to 35 countries
In my opinion the Optus plan is much better value.  Especially for heavy data users.  You also get free Apple Music streaming free for 6 months and Optus Sport is included for free as well.   If you're a Student, Optus will also give you a discount.  All you need is a student email address and you can find out more here.
If you just want the cheapest plan available, with little data on a good network, then go with AldiMobile.  If you use quite a bit of data it might be better to look at a network like Optus – they tend to be much more generous with their data.
The Network
AldiMobile runs on the Telstra network.  So you're basically getting access to the best network in Australia.  However it should be noted that they don't use the full network.  I'm guessing this is to save costs.  So just make sure you check their coverage map to see if you're covered.
Most metro areas looks like they have 4g coverage.
Aldi Mobile Plans
The plans are pretty basic but they do have some nifty features:
Data Rollover – if you don't use all of your data in a month, it'll rollover to the next month
Data only plans – if you just need data for your tablet, this could be a good option.  They offer a $95 recharge which will give you 24gb of data and won't expire for an entire year.
Pay as you Go 365 day expiry – no need to recharge every month if you're on a pay-as-you-go plan.  Your recharge will last for 365 days.  Great if you never use your phone!
My final Aldi Mobile Review
I have some family member on the Aldi mobile plans.  They seem to be quite happy.  Support has been an issue.  It is all based overseas and is limited.  Watch out in-store for special Aldi Mobile deals.  These pop up from time to time and you could get extra data or save more.    There are some cheaper alternatives out there (plans start as little as $10) so they aren't the cheapest.  Overall a pretty solid offering on a good network.
If you're on Aldi Mobile, let me know in the comments how you've been finding it.