Coinbase is one of the worlds most popular places to buy and sell cryptocurrency.  But did you know that you can get $13 free Bitcoin when you sign up?  So before joining Coinbase make sure you read this post to get the latest Coinbase promo code.
In 2019 Bitcoin gained over 90%.  So even though it wasn't getting the hype of previous years, if you had bought bitcoin at the start of the year and held it, you'd have made a handy profit.
CoinBase Promo Code – Get $13 worth of Bitcoin Free
Here is how to get $10 USD worth of Bitcoin:
Sign up to Coinbase using this link (there is no need to enter a promo code)
Verify your account – this process is usually automated and takes about 15 minutes
Purchase $100 worth of Bitcoin
You don't need to make this purchase straight away.  And it doesn't need to be in one go either.  So you can setup an automated investment plan to invest smaller amounts.  Once you've bought $100 you'll automatically be sent $13 worth of Bitcoin from Coinbase.
Why I like Coinbase
For most Australian's I recommend using CoinSpot. It has lower fees than Coinbase, so you'll get more Bitcoin for your money. But Coinbase has some good features which makes it worth signing up to:
Trusted Brand – Big company that isn't going to just disappear overnight
Credit Card Purchases – for some people this is a feature, especially if you don't like paying directly with a bank account. Coinbase supports credit card purchases.  It also works with Debit Cards.
Easy to use Interface – Coinbase has probably the best interface of any crypto exchange.  They have really made buying Bitcoin and other cryptos really easy.
Good Choice of Altcoins – you can invest in more than Bitcoin.  Coinbase is regular adding new Altcoins that solve different problems to Bitcoin.
Get more free Bitcoin with Coinbase Earn
Did you know that you can get over $100 usd worth of cryptos completely free with Coinbase Earn?  You don't need to make any purchases.  Coinbase Earn, is an education platform for cryptos.  You watch short videos about a crypto, answer a super easy question and they give you free crypto!  It really is that simple.  You'll need to have a verified Coinbase account to take part.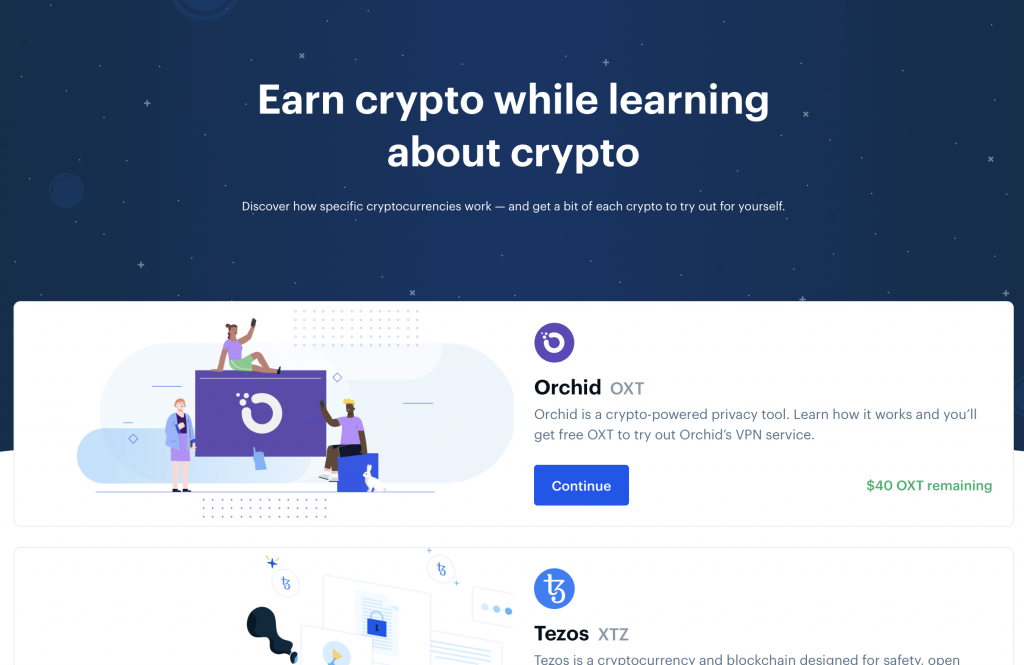 A couple of examples:
The direct links above should give you direct access to the earn program (there are a limited number available so when they are gone they are gone).
It can be a bit random when offers become available.  I've never received any email notifications.  So I check every few weeks to see if there are any Earn offers I can take part in.  It's a really quick and easy way to earn free crypto and also learn more about how the technology works.